NJfossils.com
"Fossils aren't a hobby, they're a lifestyle."
Mosasaurs (Mosasauridae)
Age – Late Cretaceous; Commonality – uncommon; Size – teeth: 1/4-2+ inches, vertebrae: 3/4-3+ inches (centrums)
Mosasaurs possessed two types of teeth: they had the usual upper and lower jaw teeth, but they also had a second set of teeth on a separate jaw behind their maxilla, which are called pterygoid teeth. These specialized pterygoid teeth were used to help hold down prey that was struggling to help make swallowing easier. Most mosasaur teeth have an elliptical base that has a wide but shallow indentation, two prominent carinae (some positions may have only one), and smooth enamel with no serrations on the carinae. However, since reptile teeth are variable, there are a lot of different exceptions. Some mosasaur teeth (especially pterygoid teeth) have a circular base and may appear to have barely any basal indentation at all. Others may have irregular, ridged enamel near the tips of the teeth. Some teeth, especially some posteriors, can have microserrations on them. These serrations can make the tooth appear to be theropod.
Mosasaurs have an interesting way of tooth replacement. Instead of a new replacement tooth pushing an old one out from the bottom, a resorption pit forms where basically the new tooth swings into its upright position from its initial horizontal position, while the old tooth is discarded. This way of tooth replacement is found in snakes, making mosasaurs their distant relatives.
Mosasaur vertebrae are distinct when complete. They have a slightly concave anterior face and slightly convex posterior face. They can vary greatly in appearance depending on the position they came from (thoracic vertebrae differ from terminal vertebrae in size and process attachment, for example).
Other mosasaur bones are pretty rare.
Lateral View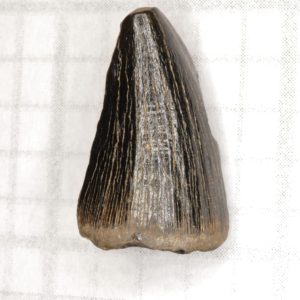 Posterior View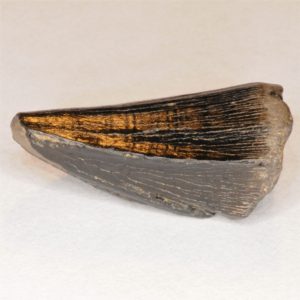 Typical tooth. Most teeth are from Prognathodon sp. and Mosasaurus conodon. This one is probably M. conodon.
Lateral View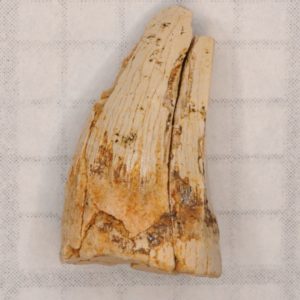 Lateral View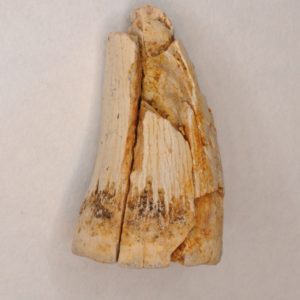 Anterior View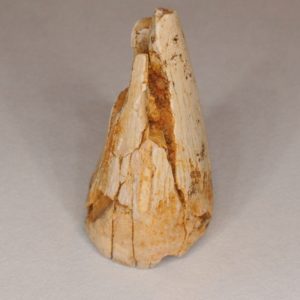 Posterior View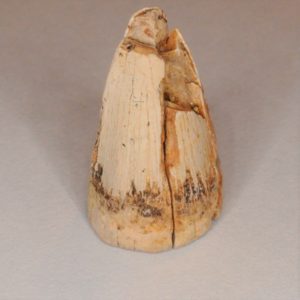 Basal View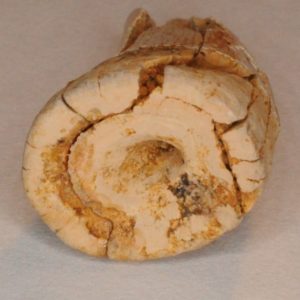 An interesting "albino" Mosasaur tooth. This one seems like it is from Prognathodon sp.
Anterior View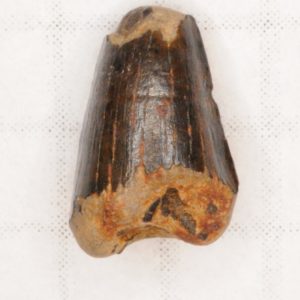 Posterior View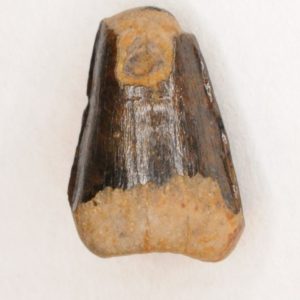 Lateral View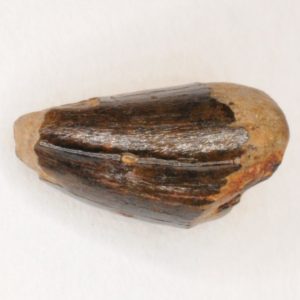 Lateral View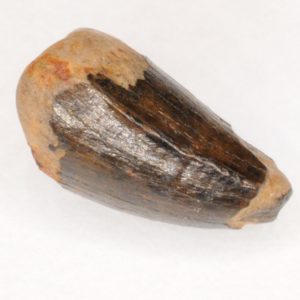 This one has an unusual shape. It might be a pterygoid tooth.
Lateral View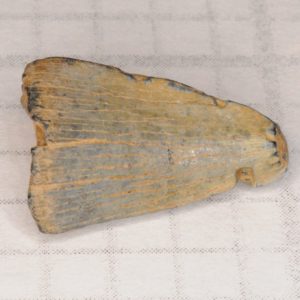 Oblique View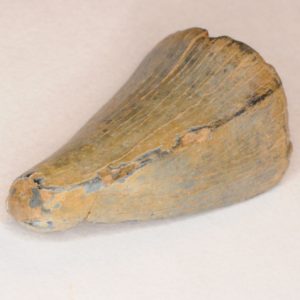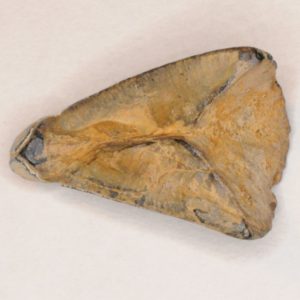 An M. conodon tooth showing a classical wear pattern. Mosasaur teeth are very prone to splitting in half.
Lateral View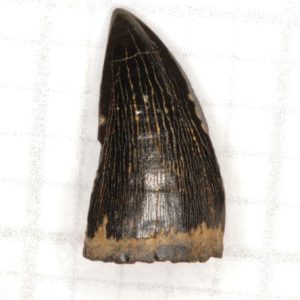 Lateral View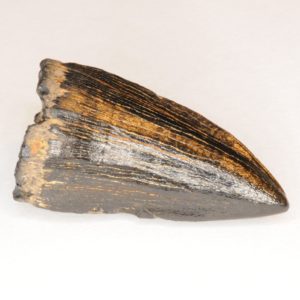 Anterior View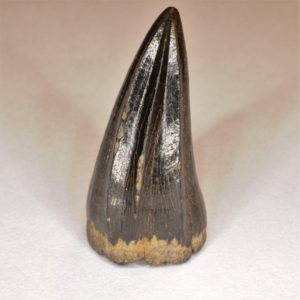 Posterior View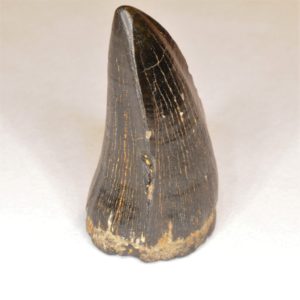 Occlusal View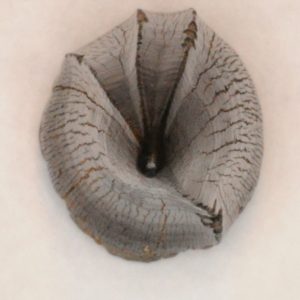 Basal View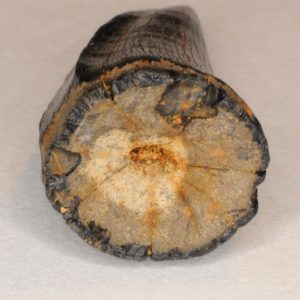 A crazy tooth. This is a pathological anterior/lateral Prognathodon sp. tooth. It is extraordinarily rare to find a pathological Mosasaur tooth in such nice condition anywhere, especially in NJ. The tooth has 4 carinae instead of the normal 2. It also has a slight contortion and a slight flattening/indentation towards the base of the inner lateral surface. This pathology was caused by either an injury to the tooth germ, a feeding injury, not enough room for normal growth (which made it grow scrunched in the tight space), or maybe by the anterior side of the tooth lodging into the next tooth, making it grow awkwardly. The tooth also doesn't seem to have any signs of occlusion by the tooth that would have been located in the same position as this tooth, just on the other jaw, or any apical wear (from feeding); this means that it was likely not in the usual erect position. ID by Lynn Harrell of the Alabama Geological Survey.
Lateral View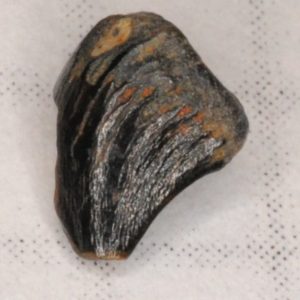 Lateral View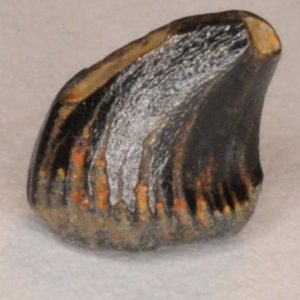 Anterior View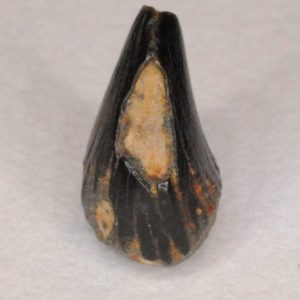 Posterior View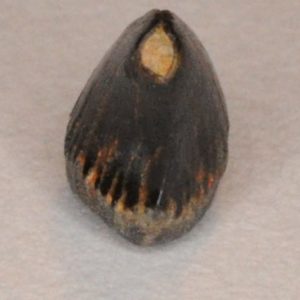 Basal View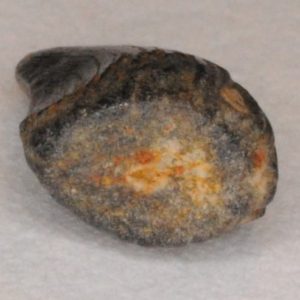 Occlusal View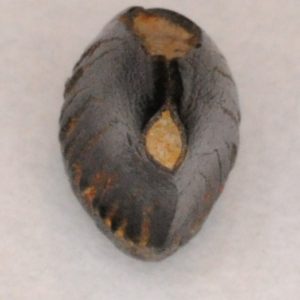 This is a posterior tooth.
Anterior View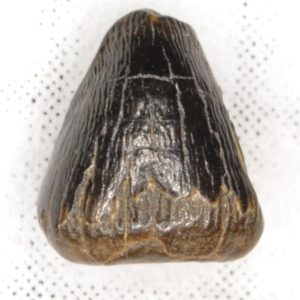 Posterior View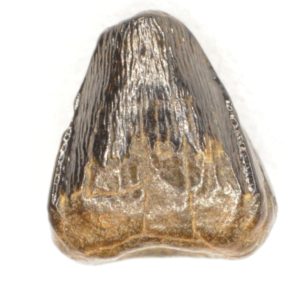 Lateral View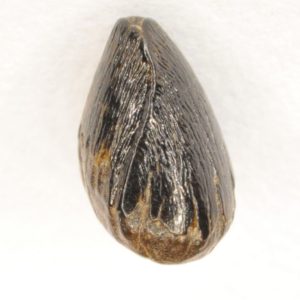 Basal View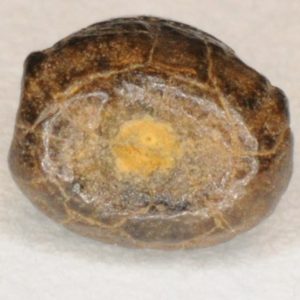 EDIT: Croc tooth. Will be moved. This one has some interesting sinusoid carinae.
Lateral View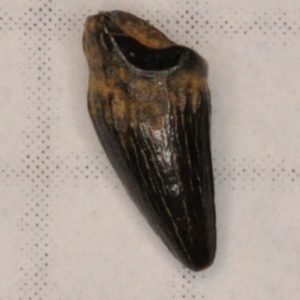 Lateral View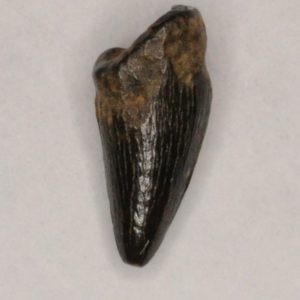 Anterior View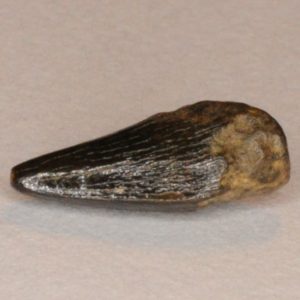 Posterior View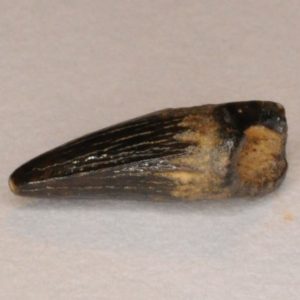 Basal View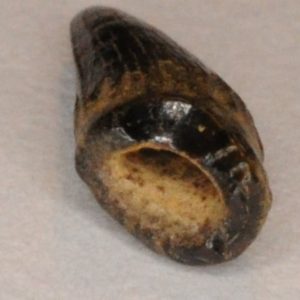 Occlusal View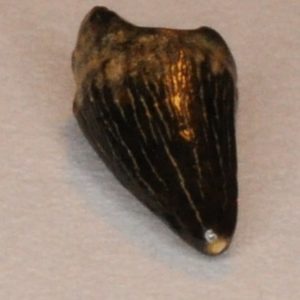 This is an unusual Mosasaur tooth. It seems to be a replacement tooth with a partial root. It must be from a Mosasaur that died with it still in its jaw (that is the only way a replacement tooth can be found).
Caudal Aspect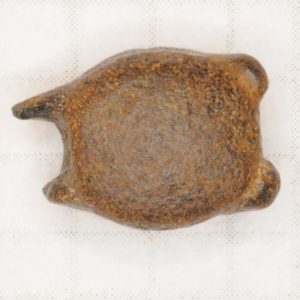 Rostral Aspect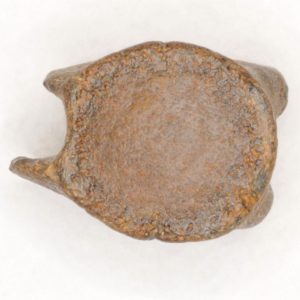 Dorsal Aspect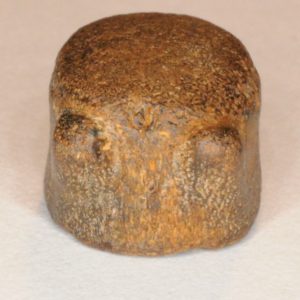 Ventral Aspect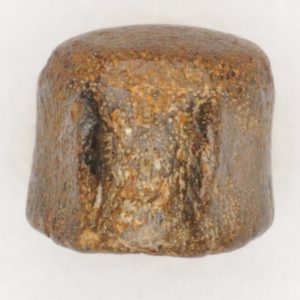 Side View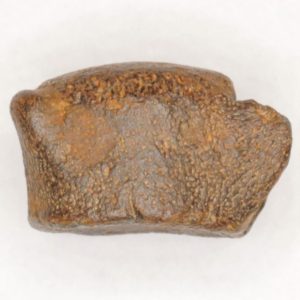 Oblique View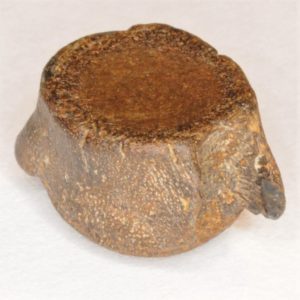 Mosasaur terminal (posterior) vertebra. Posterior vertebrae have a different shape and aren't as common as the more anterior types of vertebrae. This one still has the four processes attached.
Content copyright 2021: njfossils.com. All rights reserved.