NJfossils.com
"Fossils aren't a hobby, they're a lifestyle."
A Glimpse into the Past…
NJfossils.com is meant to aid in the process of identifying Late Cretaceous fossils from the Atlantic Coastal Plain of New Jersey. All the fossils described here so far are my personal finds from the Monmouth County streams. The fossils are from the Wenonah and Navesink Formations, which date back to the late-latest Campanian and Maastrichtian periods. There is as much as a ~ 2-4 Ma age difference between the Wenonah and the Navesink formations. This means that the oldest Wenonah fossils are about 2-4 Ma older than the youngest contemporaneous Navesink fossils. Most of the fossils from the common brooks are late Campanian in age. The formations formed after the remains of organisms were deposited on the sea floor of a shallow sea once full of life. Most of the Navesink formation fossils come from a lag at the base of the formation that is mostly reworked older material from the underlying formation; that is why it contains many of the same faunal elements as the Wenonah formation (which is the underlying formation in many locales as the Mt. Laurel is missing in some areas). It produces a variety of fossils ranging from belemnites and sponges to reptiles and dinosaurs. The best mineral indicator of the Navesink is the presence of glauconite, a greenish-brown mineral. The Wenonah formation contains a higher percent of contemporaneous material than the Navesink and produces a variety of fauna, including pristine shark teeth. The best mineral indicator of the Wenonah is the presence of mica, a silvery-gray mineral. Many of the descriptions on here are my own ideas which I discovered for myself over the years. As I gain experience, I hope to create another section for the Tertiary and Quaternary fossils of New Jersey after I find a significant amount of them.
Many fossil identifications involve the assessment of whether or not the item is a mimicking concretion. Many beginners and some advanced collectors will be deceived by this pareidolia effect.
I thank the following people for being especially helpful with guiding me in various aspects of Paleontology and fossil collecting:
Steve B., Ralph Johnson, and John Whitley.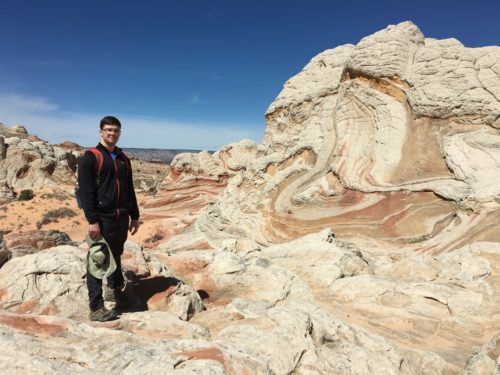 I have been collecting fossils in New Jersey since I was a little kid. It all started when my childhood friend happened to pick up a shark tooth in a stream while we were hiking with our families. In a couple months, he, his brother, and his dad offered to take me on a fossil hunt with them. I was bored that day and had resorted to catching the little fish in the stream, but in a month or so I came back with my dad and found my own fossils. To this day I remember a couple of the 6 teeth we found that day. I came a long way since then- from just knowing the terms shark tooth and vertebra, to the vast number of things and experiences mentioned on this website. All this is because of happy chance. If my friend did not spot that tooth and I did not happen to be interested in the hobby, none of this would exist.
In a couple years since I began searching through the sands of time, this hobby truly became my passion. I am a self-taught paleontologist. I have spent hundreds of hours collecting, identifying, and preparing specimens. More time was spent researching mystery finds.
Commonality Ratings
This section defines the commonality terms used on this website. They are based on others' experience combined with my own. Commonality can vary significantly based on the collecting area, the experience of the collector, and luck. It should also be noted that the depositional environment of a particular collecting area can greatly skew "actual" commonalities. For example, something that is fragile can be very rare in a site with reworking, while the fossil could actually have been a common creature of the paleoenvironment.
Abundant: You can usually find many of these on an average trip.
Very Common: This means slightly less common than the "abundant" commonality.
Common: Expect to find 1-2 of these on an average trip.
Less Common: You can find 1 of these in a couple average trips.
Uncommon: Slightly scarcer than the "less common" commonality.
Very Uncommon: Findable after ~1 year of collecting.
Scarce: Requires many years of serious collecting.
Rare: Only a couple of these have been found.
Other Great Websites on New Jersey Fossils:
Fossils of New Jersey – nice website on NJ fossils from all over the state with an emphasis on Monmouth County; the author was very helpful with identifying a few of my finds when I was less experienced
Big Brook website – pretty good website on fossils from big brook
elasmo.com – awesome website with information on sharks and their teeth
The Fossil Forum – many members from NJ and elsewhere who are helpful with anything about fossils
Shark References – list of many of the known Chondrichthyes species
Oceans of Kansas – website on fossils that are found in the Western Interior Seaway; helpful with some NJ fossils
Content copyright 2021: njfossils.com. All rights reserved.